My Tribute To Aaliyah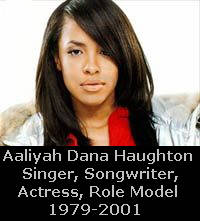 As many people have heard, our beloved Aaliyah has died on August 25, 2001 in a plane crash. I have created this page on my site as my little tribute to honor the young artist.**Note: You can click on the pcitures below for a larger version.

           
Below is a wallpaper you can download onto your desktop.
I spent over half an hour on it so please don't take it to use on your site.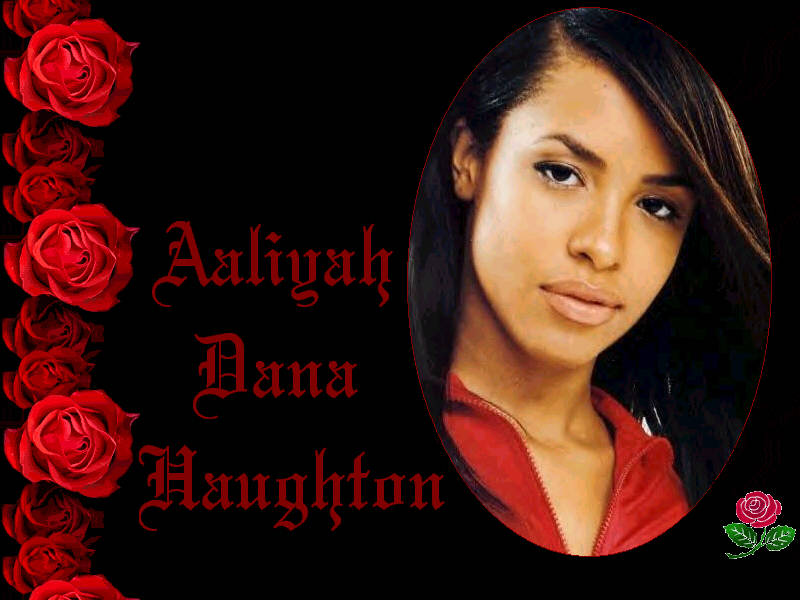 A Look At Aaliyah's Career
Grammy award winning R&B artist, Aaliyah Dana Haughton was born on January 16, 1979 in Brooklyn, New York, her family moved to Detroit whenshe was five and she grew up there. Aaliyah's name means "highest, most exalted one; the best" in Arabic. Her parents named her that even
She spent most of her childhood singing in school plays and singing in church. She got early vocal lessons from both her parents. At the age of nine she officially started to pursue a professional career in music. She auditioned for record companies. When she was a preteen, she competed on Star Search, and singing on television pilots.
Aaliyah was introduced to R. Kelly at age 14 in 1994 by her manager to work on her first album. The album, "Age Ain't Nothing But A Number" soon went platinum. Her first single, "Back & Forth" was a top five hit on the Billboard 100 and number 1 on the Billboard R&B chart, the song later went gold. Her follow up single, "At Your Best (You Are Love)" also went gold.
Not only is Aaliyah talented in music and not to mention dance. She was talented in other areas and was also very smart. She graduated from Detroit Performing Arts School with a 4.0 GPA (grade point average) in 1997. She credited her success on her family's help and support. "When I told my parents that I wanted to embark along this path," says Aaliyah, "they were with me all the way. They're the ones who shuttled me back and forth to my vocal lessons. What could be more important?"
Aaliyah had the chance to record the theme song, "Journey To The Past", for the Disney film, Anastasia. The song was nominated for an Academy Award (an Oscar). Aaliyah performed the song at The Oscars among some of Hollywood's best. In the same year, she recorded a single for the movie, Dr. Dolittle. The song was entitled, "Are You That Somebody", the song was a major hit and was known for the sound of a baby laughing in a background. Her success continued when she released her second CD, "One In A Million" and it was an instant CD. Of course what else did we expect from one of music's few truly great artists?
Aaliyah decided to pursue a career in film. Her first movie, was most of you know, was the box office hit, Romeo Must Die. She costarred with martial arts star, Jet Li. Aaliyah didn't want a stunt double and insisted on doing all her stunts. She studied martial arts for a month in order to do the movie. Critics raved about her performance in the movie. In fact, the producers of the movie, The Matrix, thought she was so good that they signed her to do Matrix 2 and Matrix 3 if possible. Aaliyah also recorded the theme to the soundtrack of Romeo Must Die, it was called "Try Again". It was a favorite among a lot of people because the song told people, "...and if at first you don't succeed, dust yourself off and try again, try again...".
Aaliyah's recent single, "We Need A Resolution" (possibly her last single if they don't go ahead and release her second single as planned before the tragic accident), was a success as it was with her previous singles.
Our beloved Aaliyah is now resting in heaven with God. She died in a plane crash coming back to the United States from the Bahamas on Saturday, August 25,2001. She just finished shooting the video for the follow up single to "We Need A Resolution". On the ride home, one of the engines failed and now officials are saying the weight of all the equipment they had probably contributed to the plane crash also. Officials also said Aaliyah was killed instantly. Hopefully she didn't feel too much pain during the plane crash. It is indeed a great tragedy that such a young and promising person is now suddenly dead. I myself still can't believe it happened.
May our prayers be with her, her family, and friends.
"For he will command his angels concerning you to guard you in all your ways; they will lift you up in their hands so that you will not strike your foot against a stone."
(PSALM 91: 11-12)